Blake Malachite: Unflappable Crusader
"So you're not afraid of death, Mr. Malachite?"
"I should think death to be afraid of me."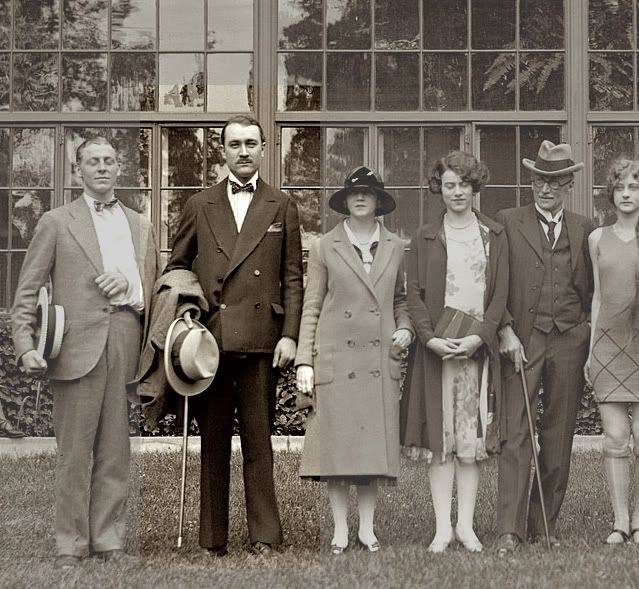 A photo of Blake at a Century Club convention in Geneva. From left to right: Devin Sinclair, Blake Malachite, Tessie Temple, Lilian Webb, Doc. Hydro: Century Administrator, Delilah Darrow
Phase One:
Blake was born in Scotland, to a wealthy family living in Edinburgh. His mother died during childbirth, and his father, (a renowned businessman, Centurion, and Olympic fencer, until an accident left him crippled) expected him to become a prodigy: hiring private tutors on every subject. Blake endured his lessons, passing with high honors, though he often had other things on his mind. Against his tutors' and father's permission he would often sneak out to help the poor and homeless in the city, thinking it unfair that his family should live in comfort while others lived in misery.
Aspects:
Strong Sense of Right and Wrong
Years of Tutelage
Phase Two:
Blake's life changed on his fifteenth birthday, (the day when he was to be sponsored into the Century Club by his father's contacts) when his father disappeared, only leaving behind his ornate walking cane that he had carried since his accident. For the first time, Blake noticed that the cane actually held a sword of pure silver, and strange glyphs decorated the blade. Touching the cane to a bookshelf in the manor's study with matching symbols on it, opened a secret doorway into an arcane laboratory underneath his house. There, decade's worth of the Malachite family's secrets came to light, and Blake realized that there was more to his heritage than meets the eye. After extensive research of the ancient spellbooks and tomes, magical artifacts, and accounts of the Malachite family's encounters with malevolent Necromancers, primeval horrors, and evil doers, Blake swore that he would uphold his family's name by finding and bringing justice to evil in all of its forms. He turned his mansion into a homeless shelter and set out into the world with his cane-sword, armed with new knowledge of the supernatural, years of fencing training, and a rock solid determination.
Aspects:
My family's allies, my family's enemies
Mystic Cane-Sword
Phase Three:
Blake Malachite vs. Doctor Coffin!
Blake goes head to head with the insidious Doctor Coffin and her twisted abominations of dead flesh! Can he escape from the hellish creatures and destroy the sinister laboratory in which they were created, before the Bulgarian landscape is ravaged by the legions of the undead? Blake looks fear in the eye and punches it in its ugly face!
Aspects:
Unflappable!
Arcane Expertise
Phase Four
Blake Malachite in "Lucky" Luke Dynamo and the Arabian Sand-Sharks!
Blake flies shotgun while Luke rescues the Arabian princess from the deadly gang of airborne cutthroats! When he crashes the plane, they must engage on a bold chase across the sandy roof-tops!
Aspects:
"I'll be damned if I can work this contraption!"
Man of the World
---
Total Aspects:
Strong Sense of Right and Wrong
Years of Tutelage
My family's allies, my family's enemies
Mystic Cane-Sword
Unflappable!
Arcane Expertise
"I'll be damned if I can work this contraption!"
Man of the World
Skills
Superb
Resolve
Great
Weapons, Academics
Good
Mysteries, Contacting, Resources
Fair
Leadership, Rapport, Endurance, Athletics
Average
Survival, Art, Deceit, Science, Investigation
Stunts
Death Defiance
Smooth Recovery
Unflappable
Right Place, Right Time
Iron Determination
page revision: 11, last edited: 02 Jul 2009 22:31